Since everyone is relying on food delivery so much. We have decided to bring you the review of Cheetay- a food delivery service-. This is an end to end review and includes everything from signup to receiving the food. 
Ecommerce and food delivery apps have surged in popularity during the past month, due to the lockdown. People have been holed up in their homes and doing only these two things- play games and eat food.
 All the restaurants are closed and even if you go out there is a risk of catching the virus. This leaves only one option i.e getting the food delivered to your home.
We hope this brings you clarity and helps in your decision making in the future.
Signing up
The signup is very typical. You have 3 options to signup; with Facebook, with Google, and with Email or Phone. Yet, they require a phone number in all of them.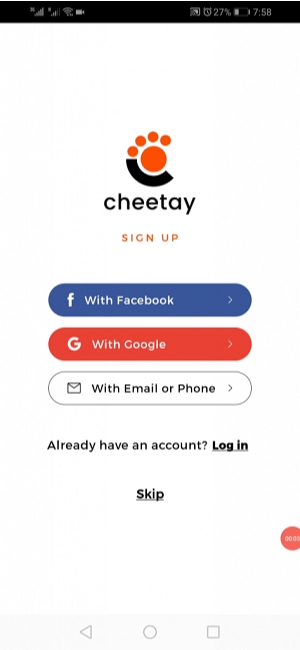 Step 1; After choosing an option, you have the option to enter a referral code. You can get this code from a previous user of the app and if entered, both of you get a discount.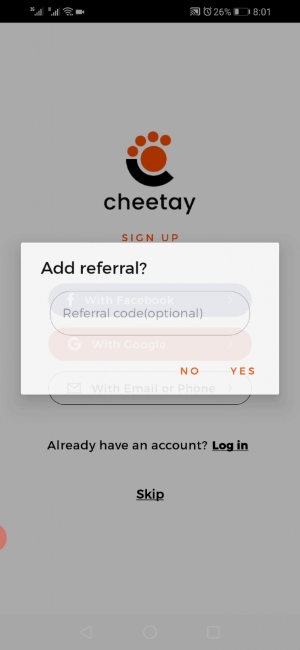 Step 2; You have to enter your phone number and they will send a verification code. Enter the 6-digit code into the app to get your account verified.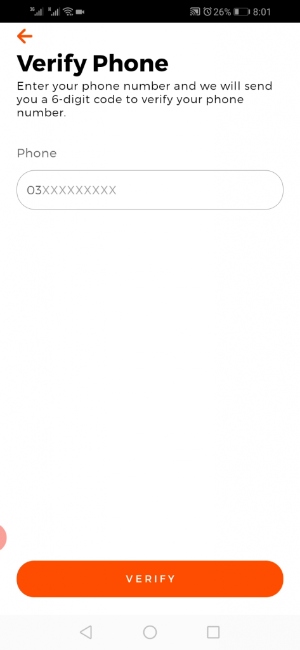 Step 3; You have to enter your address after verification is completed or allow the app to automatically get the address.

App's Interface
The app's interface is simple and easy to navigate. There are 5 categories at the top and the bottom, with the sidebar on the right, of the homepage.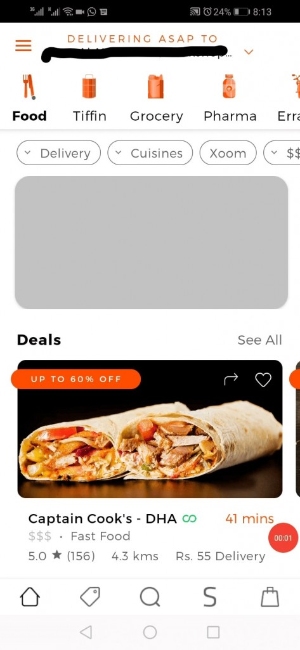 In the sidebar, there are different tabs; Notification, Cheetay Cash, My Orders, Xoom & Subscriptions, Favorites and Contact Us.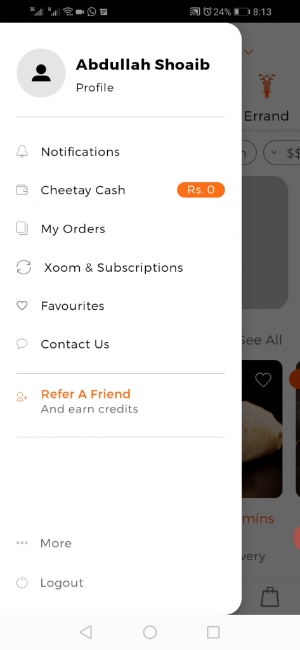 Xoom & Subscriptions is an exclusive Cheetay feature. After subscribing to Cheetay's monthly or yearly package, you get a 10% discount on selected restaurants and FREE delivery on all your orders.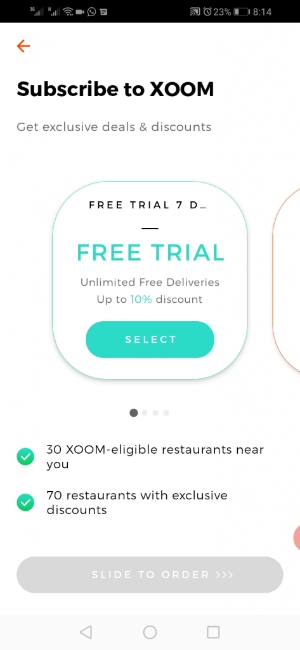 The first category is Food, which lists all the restaurants and the discounts they are offering. 
Second is Tiffin, it is home-cooked food. It is the ideal food for lunch. You can choose a weekly plan( 6 plans) or daily plans- for the following 7 days.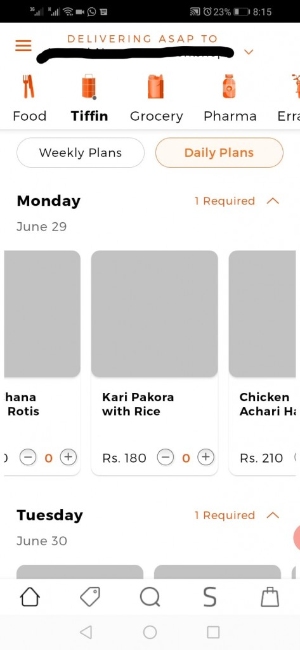 On third comes Grocery. Cheetay offers a 30-min delivery service for groceries. However, it can take more time depending on the store you choose.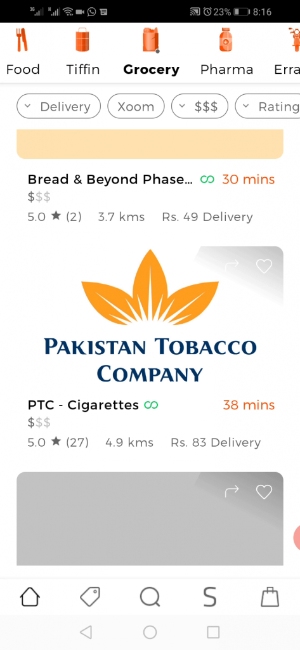 In Pharma, all the pharmacies are displayed. They take orders of medicine and other necessities like masks, gloves, and sanitizers.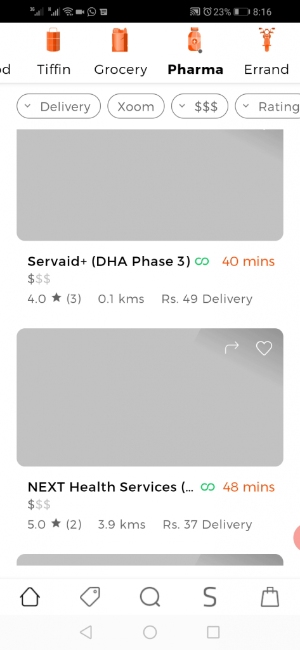 Finally, there is Errands. You enter a pickup and dropoff location. The rider will pick up your package and drop it at your specified location.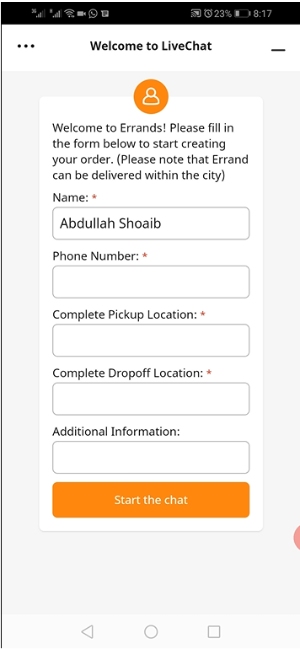 Placing the order 
Now I'm going to order something nice. 
I've noticed that Cheetay offers more discounts than regular services. The screenshot shows the complete payment and delivery information detailing the cost, discount, several fees, and delivery information.
Here is what I ordered; 2 Chicken Paratha Roll with Chutney for 158 pkr.
That's Cheap!
Also, note the delivery time. It says 37min.
Get Ready for some "Not-so-Correct" Advertisements
The food was cheap but their delivery service is way cheaper. 
The time that was displayed earlier was 37min but now its suddenly, 85min!!!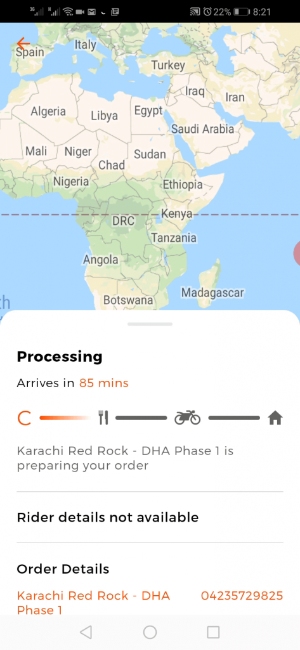 That is clearly false advertisement. They don't have to do that, just display what the actual time it'll take. 
Receiving the Order 
Alright, the food was in my hands in about 56mins. That's not 37min, what I was promised, but less than 85min. I don't know if I should be happy or not.
For payment, I chose cash on delivery. Although they give discounts if you order from a debit card.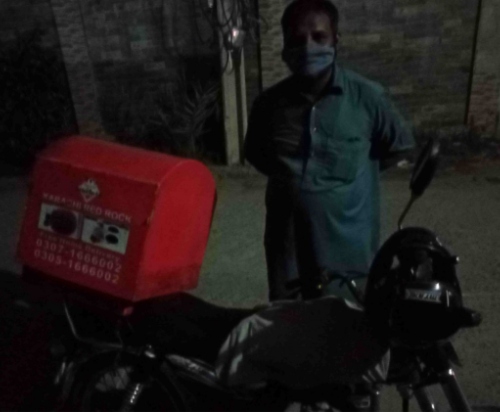 The rider was wearing a simple cotton mask, the company should provide them with a surgical one, it only costs about Rs30. 
You can notice too that the rider is not from Cheetay but the restaurant's rider. That may be the reason for the rider not following SOPs.
Quality of Food
This is what I got for the price. 2 Chicken Paratha Rolls with Chutney in 158 pkr!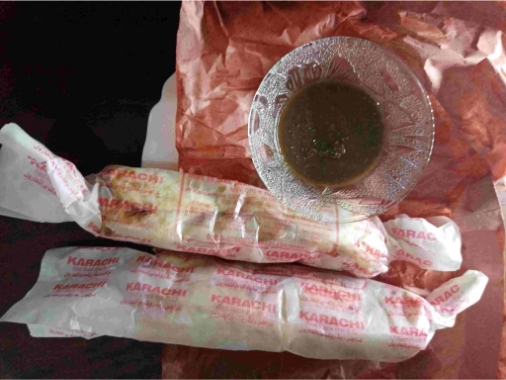 Unfortunately, it was a bit cold but after microwaving it for 1 min, it was in perfect condition to eat.
As for the quality, I would say it was not up to the experience and standards of a dine-in. I should've expected that since it was at a discount.
Should
You
Order From Cheetay?
Ordering from Cheetay was an OK experience, not bad but not good either. I'm sure the quality would've been much better if I paid the full price. 
This does not mean that food on discounts is always bad. But my experience until now says it is.
They don't need to lie about the delivery time. Trust is everything in dealing. If somehow they can reduce the delivery time, it would be a huge improvement.
Other than these two things, Cheetay is a decent app. Their additional services – tiffin, grocery, pharma, and errands – sets it apart from a normal food delivery app.
They do need to work more on their customer experience
Clarity Review Score

Functionality

91%

Reliability

73%

Usability

87%

Proficiency

71%

Creativity

86%

User Rating ( votes)