With the advent of digitalisation, the whole world is getting revamped in almost every aspect of life. Just recently, our neighbour country China announced the launch of their 5-year program to build a financial database as a base to leverage macro-economy. The plan will involve developing spreadsheets for their entire financial system including banking, security, and insurance. Moreover, if we talk about developed countries, Austrailian Department of Defence had their database centralized in the 1970s.
What Is The Centralized Database System?
A centralized database system is the one that stores and maintains data in one single database at one single location. It mainly consists of a single machine called a database server that hosts the DBSM (Database Management System), and the actual database. But in practice, it can be a set of databases, from different sources. Here the central DBMS can be implied as a service to access data from one system or service provider e.g. NaDRA.
The Importance of Centralized Database System
Data is everything, and if it's well organised and easily accessible, nothing could be better. Centralised database system promises us all of this and much more. It helps in the following ways,
Data Integrity:

With only one primary source, the data stored can be considered reliable and accurate.

Security:

Data stored in only one place means that there is only one place to be protected.

Broad Marketing Info:

It reduces the added work of matching and deduping data, as done in multiple databases. When there is only one source, data of individuals can easily be compared for wide coverage activities.

Cost Effectiveness:

This is more inexpensive, as there is a reduction in maintenance cost, power supply, and manpower.

Data Accessibility:

Data can be accessed by anyone, at any time and any place.

Usability:

It is easier to use for end-user, be it another business entity or government function, because of ease of control due to one-window operations.

Transparency:

Online availability of data and information can help with transparency and reliability of government sectors.
Centralized Database System In Pakistan
For us, today's burning question should be; Where does Pakistan stand on the use of this modernized technology?
With the recent cellphone registration campaign by PTA, we can all safely assume that Pakistan is only moving forward in centralizing our databases. Howbeit, exactly how much work has already been done and what needs to be done – is another question. Illustration below can identify various stakeholders that can contribute to the future digitalization of our government and business ecosystem,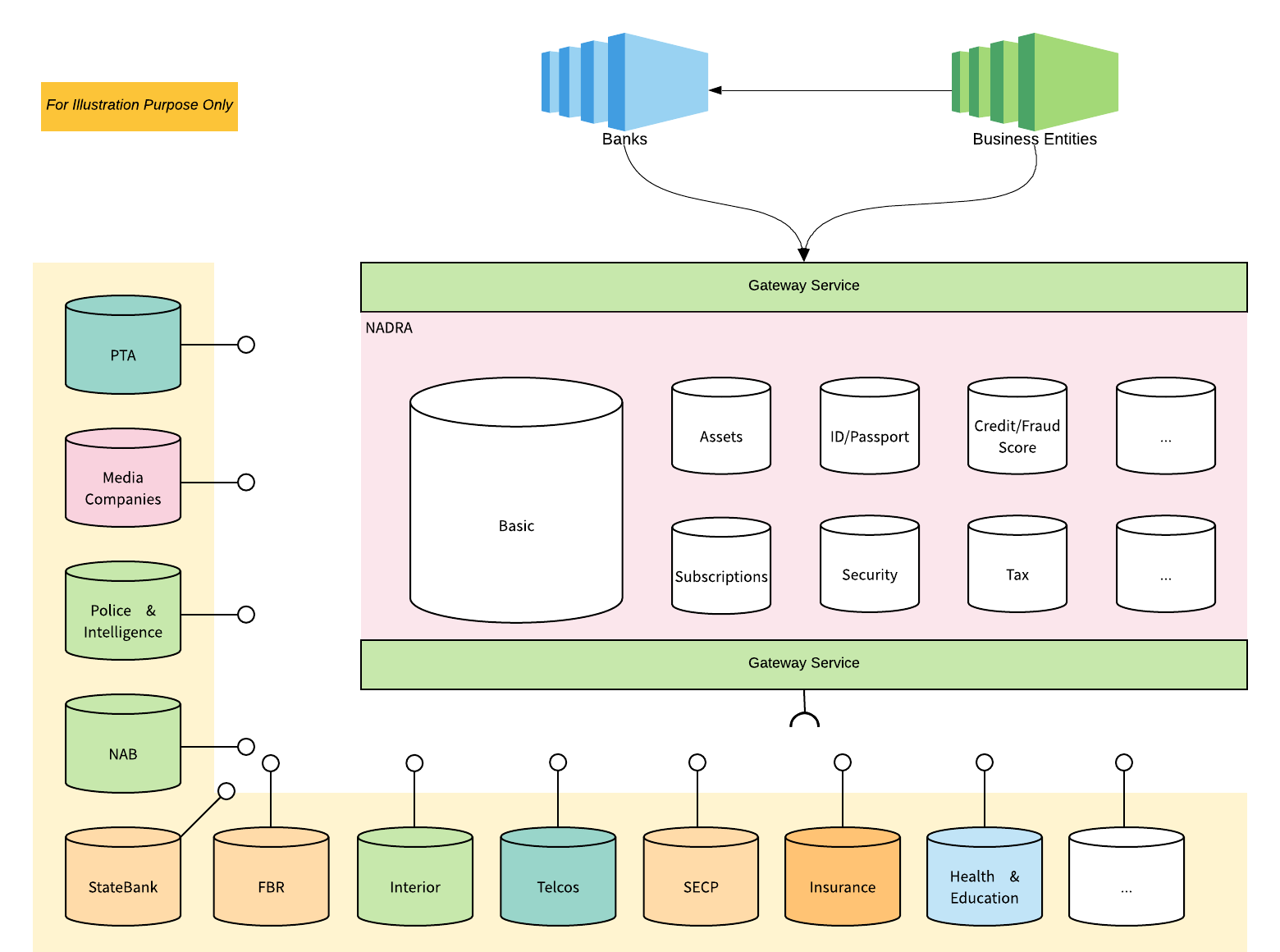 Biometric Identification
An average Pakistani has his NaDRA (National Database and Registration Authority) approved CNIC, and authorized credit cards and driving license for sure, which clearly shows that a large portion of our population is digitally recorded to an extent. This also includes biometric identified and recorded mobile network connections that are correctly pinned to the right individual through this centralized database system. The issuance of the smart identity card is also a praiseworthy action that renders the data readily available and accessible to the authorities. However, a countrywide database system of biometric verified identifications is still a raging need here.
Inter-Compatible Databases
A good news is that in the quarterly 2017-18 report of State Bank of Pakistan, they have introduced some new intervention towards digitalization. The government has planned to launch inter-compatible databases for our ministries and commissions. Through "G-cloud" servers, data will be centralized, and online government services will be provided to cellular subscribers with the help of M-government (mobile government) applications.
Digital Interventions In Health To Agricultural Department
The government has also initiated the e-health program. This includes commencement of remote advisory facilities, along with the mobile applications to centralize patient records. Moreover, planning to promote e-agriculture is also underway. From integrating data to awareness online portals are being established. Another positive initiative is taken by State Minister, Shehryar Afridi and that is centralizing all of the criminal records. The government is also trying to inaugurate a centralized payment gateway solution for easy access to online facilities and services.
Conclusion
With the data stored and maintained in a single location, the procurement of services can be made uncomplicated. It's high time for the government to deploy the use of digital technology to improve government-citizen interactions and provision. This can also render the corruption rate to be lowered – as the cases of illegal transactions done through accounts of unregistered people have been on a rise recently.
A good practice for the government can be the organization of committees, consisting of heads provincial and federal government. This can only prove to be a forward step in the establishment of e-governance.