Oladoc (oladoc.com) is recognized as Pakistan's pioneer digital healtchcare Platform. Based out of Lahore Pakistan, it aims to solve all health related issues of patients. Users can search, select, and book appointment for the best available verified doctors online; in addition, it's also adding features like booking a lab test and ordering medicines online.
Oladoc was founded in 2016 as Mydoctor.pk, the company rebranded itself as oladoc in January 2018 with a mission to serve a broader audience. It has more than 14,000 PMDC verified doctors listed on its website allowing the users to find the right doctor for their needs across Pakistan.
The company aspires to revolutionize Pakistan's healthcare landscape through innovative solutions and expand in terms of geography and services offered.
oladoc has been recognized as a pioneer in Pakistan's digital healthcare market, whereby its technology is helping users access mandatory healthcare services through the website and the mobile app.
Oladoc makes it easier for any consumer to use their services via any digital platform. Their service is accessible from website and mobile apps,
On one hand, the company helps the patients find and book an appointment with the right doctors, on the other hand, it helps doctors improve their medical practices through oladoc's "myPractice" app that has the latest features of medical practice management. Doctors can manage their schedule and appointments, manage electronic patient medical records, manage invoicing, and much more from within myPractice app.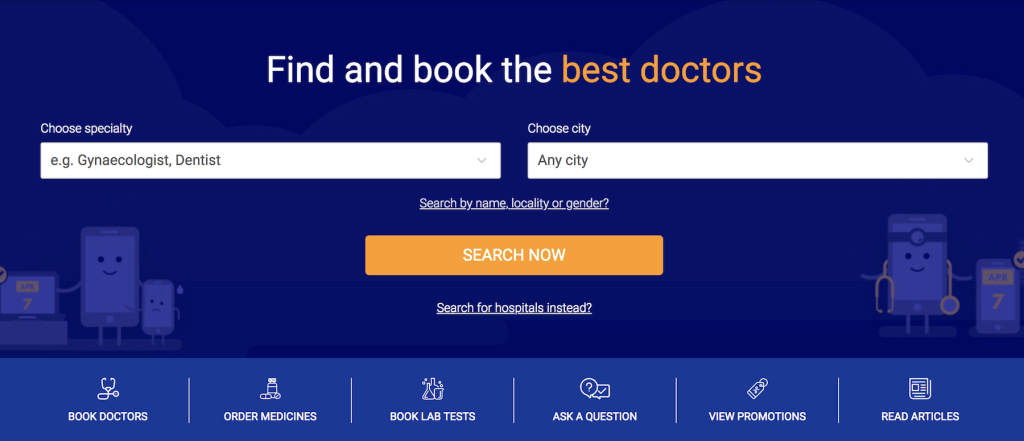 oladoc, comprising of oladoc mobile app and website, is absolutely FREE for users to find and book appointments with the doctor of their choice. Whether they book an appointment online or via oladoc call center, they don't pay anything. Apart from doctor bookings, oladoc also offers a bunch of additional services to users for FREE like the latest health content so users can stay on top of the latest health information, order medicies online, and booking a home based lab test. In the future, oladoc plans to launch additional services and be the top Digital Health company not only in Pakistan but in many similar geographies.  
How doctors can register at oladoc?
There are two ways a doctor can register with oladoc. They can visit oladoc.com and sign up (as a doctor) by providing the relevant information to validate their credentials and create their online profile. Alternatively, they can also contact oladoc helpline (042-3250-0444) to register and build their online profile as well as receive "myPractice" app to digitally manage their practice.
Why should you use oladoc?
With only 1 doctor per 1,000 patients in the country, most of the patients either visit an unqualified doctor (often a quack), which often leads to further deterioration of health. Finding the right doctor or specialist for a patient's medical condition remains a big challenge in Pakistan – and oladoc is helping Pakistanis overcome this challenge by creating transparency in this opaque industry. oladoc not only shows the doctors' list to its users, but it also allows them to read reviews and recommendations for doctors that are submitted by other users, thereby helping its users find the best doctors for their needs.
Patients can book an appointment with the right doctor without paying any booking fee.
Customers can use oladoc app/web service to get an instant appointment with the desired specialist, save their medical records, and get access to the latest healthcare contents.
Privacy and Security of Customer Data
According to oladoc founders, customer's data privacy is one of their top priority.
We take our users' data very seriously and take due care of whatever data is provided by the user or generated by a doctor on behalf of a user such as the Electronic Medical Record for a user. We use state-of-the-art secure web services to protect our user data in compliance with international data security standards – oladoc
How oladoc compares to other health-tech companies?
There are over 10 players in Pakistan who are trying to offer similar or related services. Such competition ultimately underscores the significant nature of the problem that oladoc is trying to solve for the Pakistani residents. Upon inquiry, oladoc says,
We, at oladoc, believe in bringing the best technology to our users but in a manner that a user can easily use and get the most out of our technology. That is why we complement our online booking engine with a 9am-11pm call center to help our patients who need additional guidance. Our website and app are built on the fastest technology with a very simple and easy to understand user interface.
Oladoc has quickly gained the status of Pakistan's #1 Digital Health Platform by putting users – both Patients and Doctors – first while developing their offerings. Within a short time, oladoc has added over 14,000 doctors to its panel, and with recent $1.1 million funding from an international VC firm, oladoc plans to grow this doctor network further and bring even more digital health solutions to users across Pakistan.
Key advantages for oladoc users
A wide network of specialist doctors in each category

Availability across all major cities of Pakistan

Confirmed doctor appointment in a few clicks

No fee for doctor appointment booking

9 AM to 11 PM call center offering customer support

Free storage of Electronic Medical Records in oladoc app
In 2017, oladoc helped over 1 million Pakistanis in finding the right doctors and specialists for their medical needs. This number has already crossed 2.5 million so far in 2018 and they expect it to touch the 10 million mark by 2020.
Oladoc has a rating mechanism to bring back the power of feedback from users with their interaction with doctors. This will ultimately help patients in getting higher satisfaction and gives confidence to doctors for their performance. Oladoc collects feedback from all users once their doctor appointment has taken place to ensure that other users can benefit from their recommendations and reviews.
Book a lab test or order medicines
In addition to doctor search and booking, customers can also order the medicines online and book a home lab test. Customers can book a lab test from a list of several available tests. Once a  test is selected, they can see its price, and then select the home location. The lab tests results will then be available on user's online profile for them.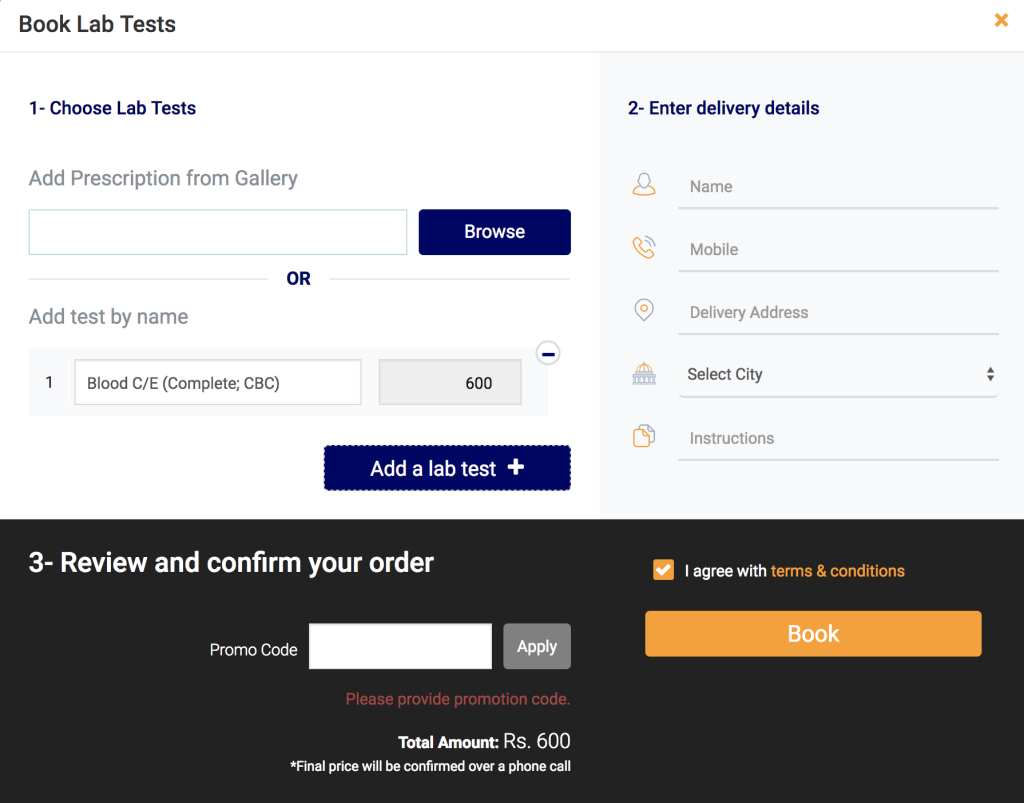 Customer Service
oladoc.com has introduced a smart customer service model that integrates across various digital and traditional platforms to deliver distinctive customer service to their users. Customers can reach out to oladoc via website, mobile app, social media (Facebook, Twitter, and Instagram) and their helpline. They have a dedicated call-center where the representatives help customers from 9 am to 11 pm seven days a week.
Oladoc Founders
oladoc is the brainchild of two brothers Abid Zuberi and Arif Zuberi. The duo brings a diverse set of international experiences in the commercial and technology world, ranging from Nokia, Nestle and others. Arif is the architect of the core technology behind oladoc while Abid drives all consumer and doctor related operations.  According to the founders,
We aspire to be a Global Digital Health company that has its roots firmly planted in Pakistan.
In the future, they aim to increase market penetration across the country and introduce additional services by innovating within the Digital Health industry. They have already expanded the network across major cities and now aiming towards smaller cities and the rural population.