When I found out about Simple.pk in a competition, held this year by karandaaz, I was not very impressed. I was aware of global freelancing platform and the fact that Pakistan has world's 4th largest freelancing community on these platforms. Why do we need such a platform when we have the likes of Upwork, Fiverr, Freelancer and many others?  Why reinvent the wheel?
I didn't get the chance to talk to the participating team back then but recently I came across Basil & Moiz, the co-founders of Simple.pk, in a startup event and I couldn't help but engage them in an argument.
Here are responses to the questions I asked Simple.pk.
HSA: Why do we need Pakistan's freelancer portal when we already have a big community of freelancers with access to international websites. What added value does it provide?

Simple.pk: Simple.pk is not just one more freelance marketplace, it's much more than that.
Its free. No memberships, no restrictions.
Low commissions: We charge 8.75% of the project value, which is less than half of what international websites charge. Upwork's commissions are in the upwards of 20% of freelancer's earnings per project.
No weird currency rates, withdrawal or transactional fees.

Since its all locally processed, there are no overheads of transactional fees. When withdrawing earned money to Pakistan, transactional fees are charged at every hop till destination bank.

Non-market USD to PKR conversion rates are forcefully applied. Roughly, a difference of 5 PKR per US Dollar from the market conversion rate as of 2017.

Same day processing.

 That means you get your hard earned money the very next day.

No Language Barrier.

The global market requires a good level of English writing and communication skills. Sadly the local freelancers lack this and are unable to communicate effectively and thus unable to tap serious opportunities. At Simple.pk, everyone speaks your language
A $50 logo design job on freelancer.com gets roughly 500 bids. How does one compete with that? Pakistan has a high demand for freelance work, and largely untapped. Simple.pk is bridging that gap – Basil
Lack of local support. 

International portals have minimal or no local support, because of which disputes and other support inquiries take several days to resolve. Simple.pk has physical presence nationwide.'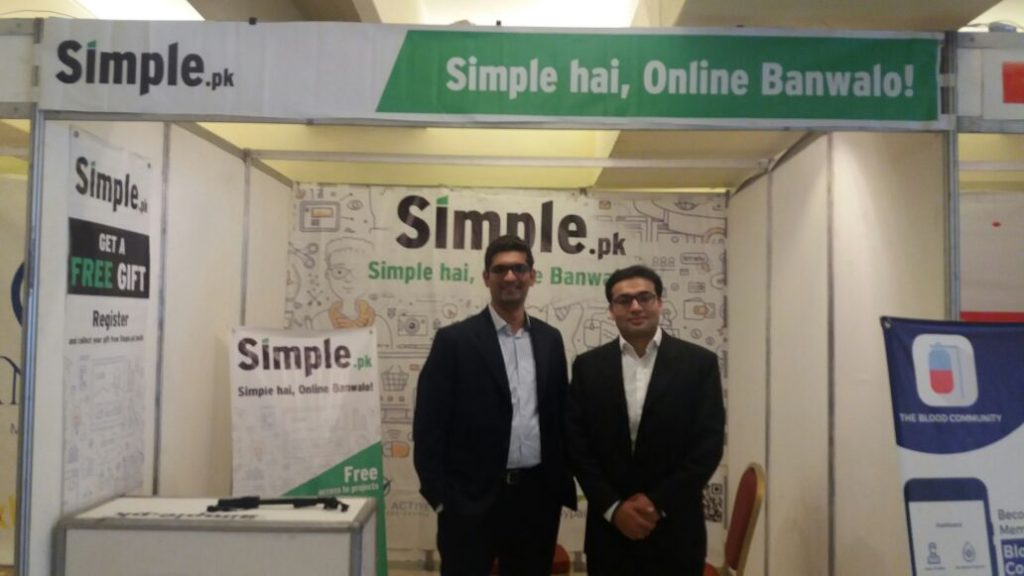 HSA: Suppose I need a freelancer, why should I go to Simple.pk and not fiverr, upwork or others?

Simple.pk: As a buyer looking for services, there are few things I would definitely consider before heading to international portals.
1- Am I ready to pay dollars for a task, and get hit by the ridiculous back conversion rates?
2- Am I ready to hire someone who does not speak my language and is not physically approachable
3- Will I get local support if something goes wrong? Can I pick up the phone or go to an office to complain about something.
4- Will I be returned my money in case of arbitration and not be subject to 3rd world bias and extensive timeline, let alone the fees in dollars.
HSA: How are you planning to create the network of freelancers and job providers?

Simple.pk: With the recent initiatives by the government to uplift the freelancer community, there is a massive influx of freelancers expected in the next two years.
Ministry of IT and Telecom's IGNITE, Punjab IT board's e-rozgaar programme, Khyber Pakhtunkhwa IT board Digital Youth Programme are prime examples of how the freelancer community has started shaping up and how its forecasted for the coming years. Furthermore, Pakistani universities produce a large number of graduates every year and not nearly enough jobs (HEC).
About 1 Million more freelancers will hit the market in the next 5 years. Challenges of the majority of these freelancers include lack of English communication, lack of work ethics, unavailability of bank accounts and international payment gateways, and lack of proficiency in skills in demand.
With this influx of freelancers and their challenges in perspective, there is a dire need for a singular platform, that can not only act as a stepping stone to online earning, but at the same time provide the tools tailored for use in the local market. From local jobs, to escrow based security to skill certifications; a huge gap that only a local freelance marketplace like Simple.pk can fill.
HSA: Do you think international portals are your competition?

Simple.pk: Not really, the goal of Simple.pk is to cultivate awareness and invoke a behavioral change that international portals are not really bothered about.
Simple.pk is NOT just a mere marketplace. It is an eco-system that not only provides a marketplace for opportunities, but also a place for trainings, skill enhancement and most importantly financial inclusion to an untapped cohort.
Simple.pk provides the currently non-existent banking services to freelancers. These include bank accounts, loans, credit cards, and car finance – Basil
HSA: I see you are integrated with Easypaisa, Jazzcash, VISA, and MasterCard. So I can get paid in my mobile account , bank account and on my CNIC ?

Simple.pk: Exactly, we aim to make payment as seamless as possible. So apart from bank transfers, mobile wallets and CNIC (cash on counter), we are also planning to include cryptocurrency in the future subject to government regulations. We are also onboarding SimSim by Finca very soon.
_ _ _

By this time, I was quite convinced and impressed with the vision of these guys. We both had  flights to catch and we decided to call it a day. But it doesn't end here, I will register as an employer and freelancer and see how it works and if they live up to the promises they made.
A bit about company
Founded by Basil Ansari and Moiz Khan in Jan 1st, 2017, both entrepreneurs have a diverse background in ICT. Startup has received initial round of funding from Planet N group of companies. Simple.pk ranked Number 1 freelancing website for Pakistani freelancers on google.