TheDesk is an eloquently designed, perfect co-working space situated in Islamabad, Pakistan. The shared space provides a peaceful and productive environment. The coworking space has the finest facilities and amenities for Freelancers, Startup founders, budding or established entrepreneurs. It also provides space for students to work on their business ideas.
Although The Desk is relatively new, it has strong support of seasoned entrepreneurs. There is a strong vision behind the concept of establishing such a facility. It is to contribute to the emerging industry of freelancing, eCommerce, and to digitize the conventional businesses. Moreover, the core idea behind all this to make affordable price spaces accessible to those who require it the most. The only thing that the company does not compromise is quality and ambiance.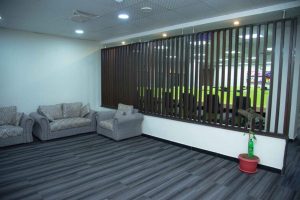 Features at TheDesk Coworking Space
Absolute Distraction-Free Environment,

Central Air Conditioning, Heating,

Complimentary tea and bottled drinking water,

Dedicated Desk and Executive Rooms,

Kitchen with Proper Dining Facility, Microwave, Fridge

Lightning Fast Internet Speed,

Mail Handling, Printing, and Scanning,

Mentorship by industry experts,

Separate washrooms for Male and Female,

Shared Reception, Guest Waiting Area, Prayers Place,

Smoke-free zone (Separate open space available for smokers on the ground floor),

Social events with co-workers,

Spacious Parking Area,

TV hall with sofa seating,

Uninterruptible Power Supply,

Unlimited access to conference and meeting rooms.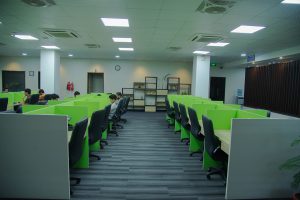 Extra Activities
Furthermore, there are a number of fun activities that can be done when you are taking a break from your work, such as:
Arranging recreational tours to Margala Hills and neighboring picnic points,
Boot camps and crash courses for soft skills,
Celebrating birthdays, and winning or completing projects,
Monthly meet-ups of experts in specific platforms such as WordPress, PrestaShop,
Networking events to share and learn from Executives of their successful ventures,
Seminars and webinars on technology advancements.
How is TheDesk different from its competition?
In comparison with its competitors, TheDesk has a significant advantage in terms of interior design. Furthermore, the location of the place and the flexible working timings are really a motivation driver.
Projectors and Conference Room is provided for a standardized business presentation,
Its strategic location makes it accessible to major sectors of Islamabad,
Work timings of 9-6 are not to be followed, religiously.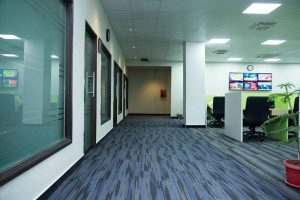 For people who want to visit on-site and experience the environment first-hand, can visit the facility in-person and meet the co-workers.
Address: TheDesk, Lower Ground, Plot 349, Street 1, I-9/3 Islamabad, Pakistan.
Pricing Policy – TheDesk
As compared to their counterparts, TheDesk has a systematic and elaborate pricing plan which is absolutely affordable for all kinds of clients. The prices are as follows:
Dedicated Desk: Rs. 12,000/month (9-hours a day)
Executive Suite: Rs. 75,000/month,
Part-Time: Rs. 6,000/month – (Morning, Afternoon or Evening)
Private Office: Rs. 50,000/month (6 persons a month)
(Note: There are special discounts for teams and for advance payments of 6 to 12 months upfront.)
For more details, TheDesk can be contacted by the following means:
Contact via email: info@TheDesk.pk
Contact number: +92518442556
You can also find TheDesk on their Social Media at:
Facebook: https://www.facebook.com/The Desk.pk/

Instagram: https://www.instagram.com/The Deskpk/

LinkedIn: https://www.linkedin.com/company/The Deskpk/