Take Off Istanbul is one of the biggest free technology events in the world. The event brings a number of different startups, VC, and accelerators from all over the world under its umbrella.
What is Take Off Istanbul?
Take Off Istanbul is an opportunity for rising startups to showcase their potential in front of an audience full of investors. The competition consists of 300+ startups who possess the sole purpose of getting to the number one spot. The 300+ startups are divided into 7 major strategic categories which are as follows:
Food and Agriculture Startups;
Health, Sport, Wellness Startups;
Environment and Energy Startups;
Education and Future of Work Startups;
Logistics and Smart City Startups;
Aerospace Startups;
Finance Startups.
Take Off Istanbul 2019 is the second iteration of the revolutionizing startup promotion event. The startup event has a limitation of being in the approved territory list provided by Google Cloud Platform. Although Pakistan is not on that list, however, the event did witness some amazing Pakistani startup ideas. One of the ideas actually won a significant prize.
Instacare, a Pakistani medical startup founded by Muhammad Bilal Amjad successfully got shortlisted among the top 15  Foreign start-ups.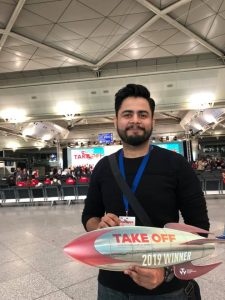 This shortlisting did bring ample amounts of advantages for the medical application. Due to this accomplishment, Instacare will now receive a monthly allowance of $1000 to speed start its progress. Moreover, the startup now has permission to expand its wings all across Turkey, which automatically makes it an international brand.
What is Instacare?
Instacare is a Pakistani HealthTech startup which was in incubation with NICL. The CEO of Instacare had a motive to revolutionize and enhance the ease of medical services in Pakistan. An idea of enhancement was there, it has been there for a long time. But, it lacked execution. Instacare took that first step towards execution and Takeoff Istanbul has really proved to be a major stepping stone for the success of this initiative. According to the CEO, Instacare aims to save more than 1,000,000 Pakistani children, men, and women. The system wants to bridge the gaps between the underprivileged and the minor negligencies.
For more details, visit Instacare.