What is a Chat Bot?
A Chat Bot is a software program that interacts with humans through textual or audio chat apps. While interacting, the human side of the app does not really feel the difference since the Chat Bot has almost all the answers to questions asked by the person related to service. This simulation of humans by the chat bot is based on Artificial Intelligence, that allows the software program to smartly interpret the questions being asked and find the relevant answers to those questions.
For example, you visit an online store to buy clothes and you have some questions related to products. You see an icon, usually on the bottom right side of the web page, that says " Talk to Us" or " Help". You click and initiate the conversation by asking the question. In the past, it used to be a person on the other side replying to your questions. But with advent of chat bots, chances are you are talking to a machine/software program who fetches answers to your questions from the databases and replies to you.
Chat Bot is a short form of Chat Robot and that explains the concept well.
Types of Chat Bots
Messaging Platform Bots
Messaging apps like Telegram, Line and FacebookChat have developed their own bots that appear as a person in the list. These bots are basically companies that want to interact with their customers just like two people talk to each other on a chat app.
You can ask questions and will get answers. These bots will try to engage you to sell products and services. For example, Lyft, a ride hailing services allows its customers to book a ride from Facebook chat. The bot keeps customer updated about the location of driver and can respond with all sorts of queries.
PizzaHut at some places allow its customers to order pizza using facebook chat app. Telegram chat app has many bots that customers can add. It even provides a platform for developers to create their own bots.
Bank & Finance Chatbots
Its not a hidden truth that downsizing in the banking industry has already begun and mostly due to the automation of the manual-processes where less and less human interaction is required. Chatbots have enabled the banking industry to engage customers in a new way with more efficiency, cutting down the labours costs.
By 2020, customers in US will manage 85% of their relationship with the enterprise without interacting with a human – Gartner
Voice based chatbot, Erica, by Bank of America is a clear example that industry wants to innovate in this direction rather fast and bring down the overall costs for the future. It not just works on ATM machines but also on other voice-first platforms like Siri, Alexa, Cortana, Watson, Viv, and others.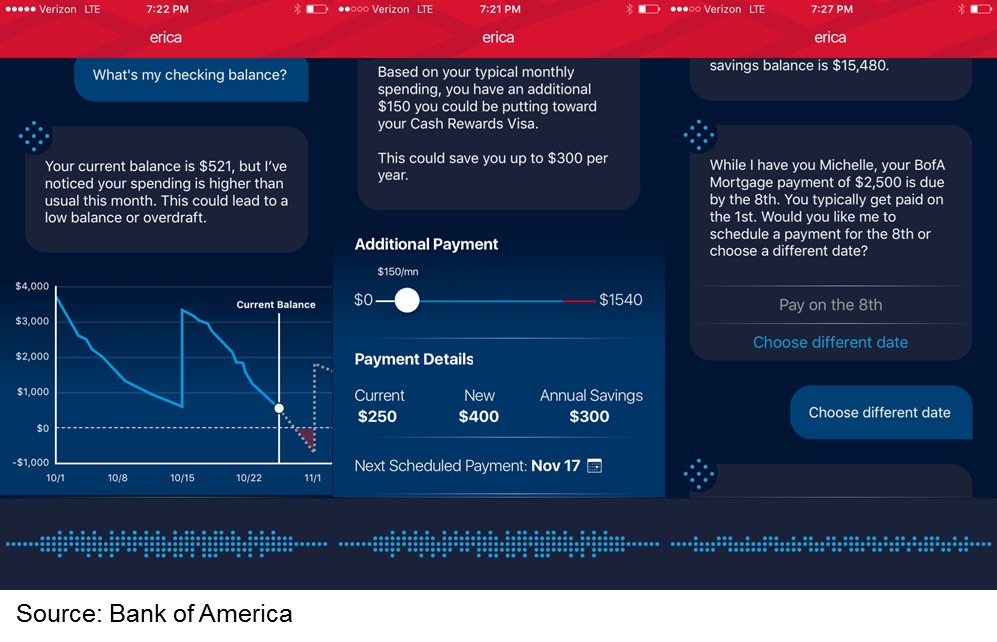 According to report by Citigroup, the number of employees at American banks would drop to 1.8 million people in the year 2025, down from 2.6 million in 2015 and 2.9 million before the financial crisis, the report said. And Citi paints an even gloomier picture for European banks, predicting a sharper drop of 37%
In-App or on Website Bots
Starbucks has a chat bot inside its app from where customers can simply order coffee by writing or speaking to it.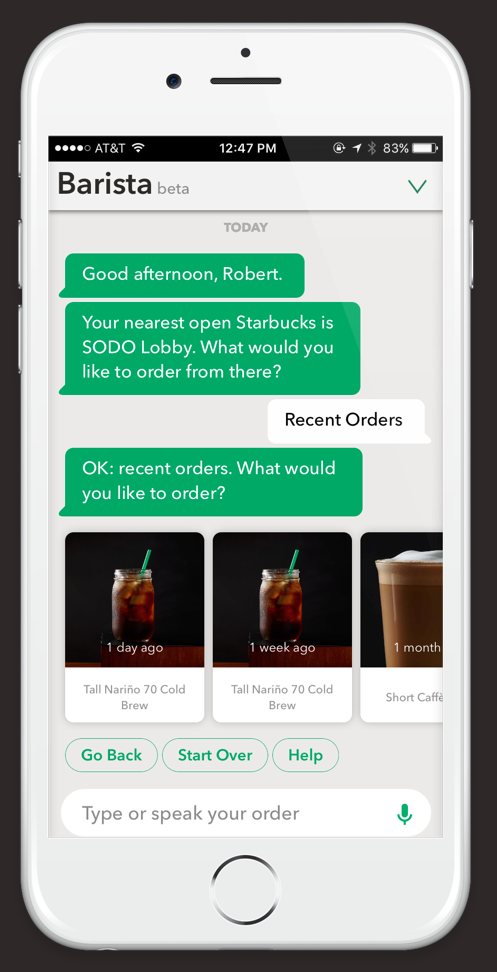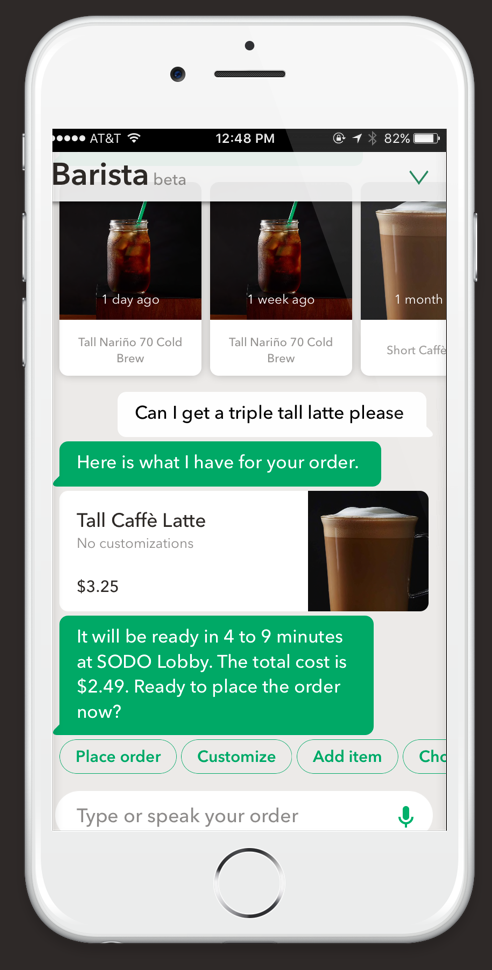 Social Media Platform Bots
Twitter has a feature to create profiles with no human being behind. These twitter accounts create tweets, interact with followers, forward and like relevant tweets. This has lately stirred a debate due to offensive tweets these bot accounts create.
Facebook has the same fake profile building capacity. These profiles almost look real due to the images, photos and interest they have. You must have seen some profiles liking your posts or sending you friend requests where when you visit their page, it looks odd and strange. This is because, those profiles are created artificially by a software using data from the net.
Why do we need Chat Bots?
There are many reasons for which Chat Bots can be used. Some of them are given below
Low Cost to Serve Customers
It costs to deploy a team of human beings on Help Line. While running an online business, you can afford to have 1 or 2 resources for a small startup to respond to customer queries, but as you scale up your business, it is not cost efficient to keep increasing your team size to cater to rising number of customers. With Chat Bot once developed, you can easily keep your cost pretty low and still satisfy your customer with immediate response to their queries which is not possible with human beings.
Quick Query Resolution
Human beings need more time to process the query and look for the right answers whereas software programs can do that within seconds. If your database of answers is updated regularly, you chat bot will continue to work smoothly.
Customer Engagement
Bots can be much more effective in engaging customers on chat apps. Firstly, humanly it's not possible to interact with customers on personalized basis. Second, humans cannot remember all relevant information related to the customer they are talking to. Imagine, a customer talking to a bot who knows everything about the customer's shopping behavior, preferences, geography, name, age and gender. Such information will let bot engage the customer and influence his buying behavior much more effectively.
How Chat Bots are built?
Primarily, Chat Bots are rules based software programs where a big database is maintained with possible questions and answers. The program take question from users and try to find the most relevant question in the database and fetches the relevant answers. Advanced forms of bots work on Artificial Intelligence. Such bots are smart and keep learning from their interactions and are more well equipped to handle variety of situations.
What is the future of Chat Bots?
Chat Bots are definitely going to get much more smarter and they will completely take over the space of customer dealing and engagement. E-Commerce will be the biggest beneficiary of them and sad news is that many customer care agents will ultimately lose their job to chat bots.
---
Photo Credits: Erica ATM Photo: ANDREW CABALLERO-REYNOLDS/AFP/Getty Images