Albeit a slow growth on adoption of digital banking and payment services, the pakistani market is on the right track. The latest report released by State Bank of Pakistan shows positive indicators across all categories and is worth having a look at.
The report shows numbers starting from first quarter of 2017 to projected figures of  1st quarter of 2018. Let's see how digital banking services are growing.

There are 44 banks in Pakistan with total of 14,422 branches across the country.  Except 21 branches, all banks branches are providing real time online banking services that includes E-Banking, ATM Cards, Mobile Bankings and Point of Sale machines services. Mobile Phone/App based Banking is being offered by 18 Banks/ MFBs to a total of 2.7million registered Mobile Phone Banking users in the country. Mobile Phone Banking processed 4.1 million transactions amounting to Rs. 73.9 billion during the Quarter under review.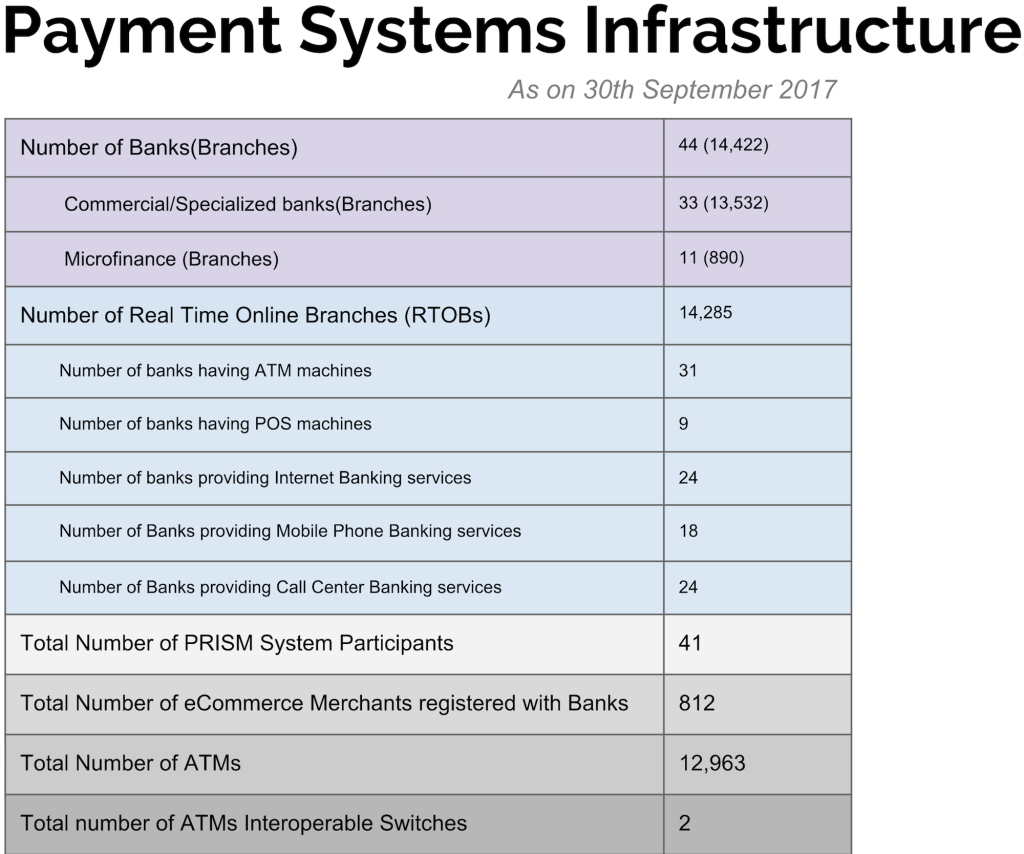 Total number of registered e-commerce merchants stands at 812 from 571 in the last quarter – showed a quarterly growth of 42.2%
Pakistani consumers carried out 0.8 million online eCommerce transactions worth Rs. 4.8 billion through these registered E-Commerce Merchants during 1st quarter of 2018. This is a significant quarterly growth of 100.6% in volume and 50.5% in value of transactions respectively. During the same quarter, 1.3 million e-Commerce transactions amounting to Rs. 7.9 billion were carried out across the globe using domestically issued Debt, Credit and Prepaid Card.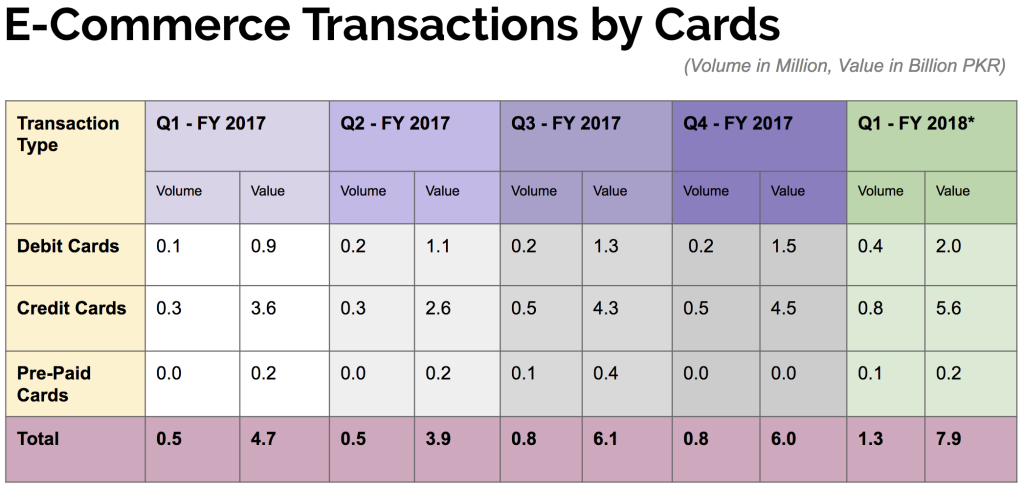 Due to the rapid increase of Internet and Mobile Phone Banking in the country, the overall size of Call Centers/IVR banking is being reduced. During the quarter under review, 79.5 thousand transactions value Rs. 2.3 million were processed by Call Centers/IVR Banking.
As on Sep 2017, the number of reported Credit Cards in circulation is 1.3 million processed 7.9 million (6.3 %) transactions of value Rs. 45.9 billion (3.5%) transactions
All in all, the indicators are showing positive trend in digital payment adoption. The driving change is mostly a contribution of technology and innovation by fintech and telecom companies in Pakistan.
Reference: http://www.sbp.org.pk/PS/PDF/PS-Review-Q1FY18.pdf