Internet of Things and Automation (IOTA) Pakistan is a SaaS-based company. The digital world is progressing towards software automation at an insanely quick speed. As a result, IOTA emphasizes on bringing digitalization and revolution in Pakistan's market through the awareness of IoT products. The interesting thing about IOTA Pakistan is that it has a widespread domain of customers ranging from general public (B2C) to industries (B2B). As per the company's manifesto, the company plans to focus on automobile, energy, healthcare, and industrial manufacturing. IOTA Pakistan is still a developing organization that recently launched its first product in the automobile sector, known as Drivitix. The domain of the product revolves around car maintenance that inculcates live-tracking, security, maintenance, and diagnostics of vehicles. Furthermore, Drivitix also offers detailed driver behavior analytics that lets you evaluate a driver's credibility and progress through analytical statistics.
OVERVIEW OF DRIVITIX
Drivitx uses the OBD-II ports of vehicles that allow the device to gather all the user-specific information. It also allows the device to effectively maintain user analytics such as driver behavior, trip analysis, optimized fuel consumption, and maintenance. The machine learning and AI protocol implemented in Drivitix provides both predictive and preventive alerts to the driver. How does this help? For instance, if a driver has a constant bad rating against its daily trips, it is prone to the accident in 2 months. So the owner needs to educate the driver about the lapses and ensure any future inconvenience can be avoided.
IN-APP NAVIGATIONS
Upon our request, Drivitix provided us with a demo account to test and experience their application and be able to provide a more detailed analysis.
Add Vehicle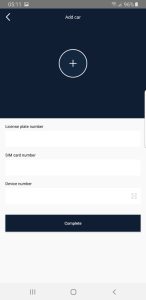 The first and foremost after setting up an account is to register/add a vehicle in the application to initiate the tracking and maintenance protocols.
We would strongly recommend you to try this application out. You should opt for their trial version to test and experience the aesthetics of the service.
Download
You can download the app from the links below:
Android, iOS.