For nearly as long as Bitcoin has been trading, its existence has been a thorn in the sides of crypto investors everywhere. And starting today, new investors in crypto may soon find out why veterans cringe when they hear the name: Mt. Gox.
Find out why the infamous, original crypto exchange could continue to be the bane of each Bitcoin bull run.
What Is Mt. Gox And What Does It Mean To Bitcoin?
Mt. Gox is short for "Magic: The Gathering Online eXchange," according to Wikipedia. But when its creator Jed McCaleb became interested in Bitcoin, he turned it into a cryptocurrency exchange.
Without it, Bitcoin adoption might not have unfolded the way things have historically. Why then, are crypto investors suddenly so spooked about the long defunct platform?
Word is spreading, stemming from Bloomberg's Matt Leising, that Coinlab has reached a deal with Mt. Gox creditors in which original investors can claim up to 90% of the original BTC lost. The deal is subject to creditor approval, but it could lead to a portion of the original 140,000 BTC making its way into the market.
Much of what has been driving the recent Bitcoin rally has been a lack of coins on exchanges, but a sudden influx of sellers in tens of thousands of profit per coin could turn the tides on a the overall bull trend once again.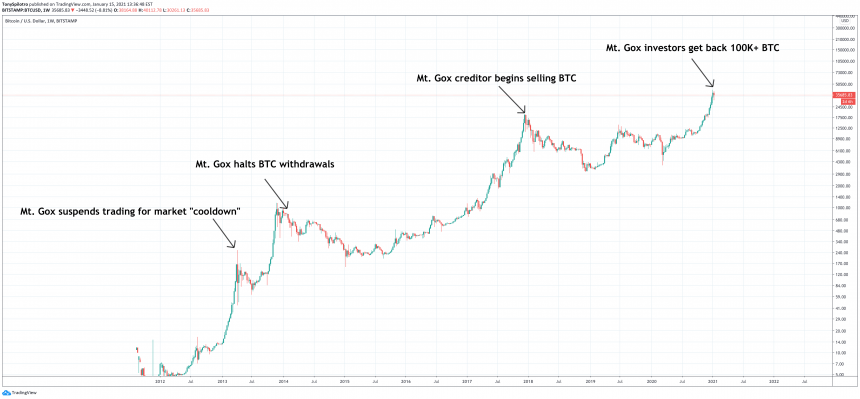 The effects of Mt. Gox over the years | Source: BTCUSD on TradingView.com
How The Early Exchange Has Crushed Each Major Crypto Rally
While the existence of the early exchange was vital to Bitcoin's initial growth, it has been nothing but a thorn in its paw since. Mt. Gox has been responsible for nearly every major peak in the cryptocurrency's history, dating back to 2013.
The first of which occurred when the crypto market was so hot, the exchange halted trading to force a market "cooldown." Cool down it did, with a one-week candle from high to low seeing a full 80% retrace.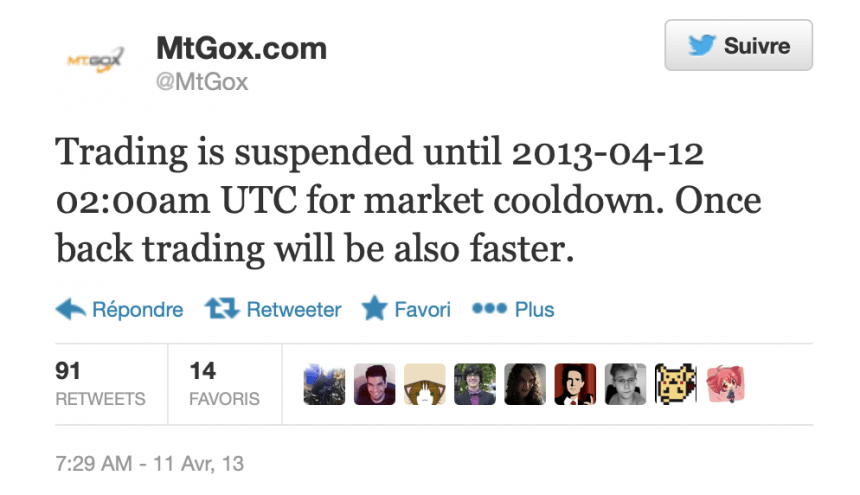 The next major peak happened when the troubles at Mt. Gox came to a head. The platform had been experiencing issues leading up to 2014, but it was February 2014 when withdrawals were halted.
The full details of the hack caused the first major bear market in the leading cryptocurrency by market cap. After taking three years to recover, Bitcoin finally crushed all expectations and emerged as a household name in 2017, topping out at $20,000.
It wasn't until later in 2018 after subsequent selloffs, that blockchain data revealed that it was the trustee responsible for holding the Mt. Gox BTC selling into the market to cover off on costs and recoup funds.
The trustee began moving Bitcoin on December 18, the exact peak of the last bull market. The rest is history.
Bitcoin is back, and even doubled its 2017 peak. Will these early investors in crypto continue to hold for much higher prices? The highest price the cryptocurrency was trading at in 2013 and 2014 was under $1,200. That means even at today's price of $35,000 and a 90% allocation, they're still in over $30,000 profit per coin.
Even if every investor of some 100,000 BTC only sold half, that's 50,000 BTC suddenly flooding the market. The trustee sold far less than that in 2017, and it took the cryptocurrency back down to $3,200 in the end. What sort of damage will this do to the market this time?
Featured image from Pixabay, Charts from TradingView.com
—
First published here