What is SaareyMusic?
SaareyMusic is the first-ever music streaming service for the promotion of Pakistani classical music. The application claims to provide unlimited, ad-free access to the following type of recordings:
Exclusive,
Curated, and
Live recordings of live performances of the musical greats of Pakistan.
The recorded soundtracks include vintage masterpieces from the 1960s. The masterpieces range from Malika-e-Mausiqi Roshan Ara Begum, Emperor of Tabla Ustad Shaukat Hussain, Sitar Nawaz Ustad Sharif Khan Poonchwala and the legendary duo – Ustad Amanat Ali Khan and Ustad Fateh Ali Khan. As per more recent recordings, the application will feature Ustad Naseer ud Din Saami, Ustad Fateh Ali Khan (Gawaliar), Ustad Hamid Ali Khan and many more.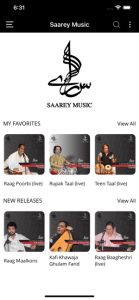 Founders – SaareyMusic
In order to develop such an application and to even think of creating to implement such an idea, you need to be a true classical music fan. That is exactly the case here. Mr. Faraan Ahmed Irfan, a Global MBA, a consultant, an advisor and most importantly a classical music enthusiast, is the CEO of Saarey Records. It is the record label behind SaareyMusic.
Faraan has a vast experience of 12 years working for the All Pakistan Music Conference in Lahore, Pakistan. Being the Joint Secretary, he manages the artist management, event management, fundraising, operations, and planning. If there is a driving force behind the digitization of these classic records, it is him! Faraan has worked tirelessly for the digitization of these records and archives of the organization and the publishing of its content.
Furthermore, being an advisor Faraan is also the founder of Faraan Irfan Consultants & Advisors. He provides a handful of services to a large number of industries and business sectors including to Deloitte Middle East. Among his many achievements, helping companies secure a multi-million dollar turnaround is the most prominent.
Mr. Ahmed is a Global MBA with Academic Honours from Columbia Business School, USA | London Business School, UK, and Hong Kong University, Hong Kong. This diverse program was ranked #1 in the world in its category by QS Ranking in 2018. Lastly, he a Pakistan Alumni Club Leader for Columbia Business School.
How is SaareyMusic dealing with its competition and customers?
Faraan has a knack of helping the incredible artists to earn the amount of awareness, exposure, and respect they deserve. The idea of separate music streaming app came into existence when he chose to spread Pakistani culture and heritage worldwide as a project to the Entrepreneurial Summer School at London Business School, UK. Since then, he has never looked back. SaareyMusic is currently in its first fundraising round, going strong heading into the market.
As far as Pakistani classical music is concerned, SaareyMusic is the only contender of the spot at the moment. At a global level, their only competitor is Saregama classical who offers the same idea for Indian Classical Music. However, broadening the competitive landscape can bring Patari and Taazi into the radius.
The application launched on 23rd July 2019. Since their start, their percentages of users comparing the first month to the second are as follows:
Downloads increased by 257%,
Registrations increased by 206%,
Subscriptions increased by 25%.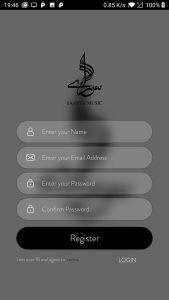 SaareyMusic Price Policy
SaareyMusic is available to be downloaded for free. There is no registration fee. Once you are registered, it gives you access to limited free content. In order to listen to the entire content, including vintage masterpieces from the 1960s, you will have to subscribe to one of their plans. The Monthly plan is as low as $3.99, Half Yearly Plan is for $18.99 and Yearly Plan is for $35.99. Luckily, you can first start a 7-day free trial to check if the application is suitable for you.
Application availability
Currently, SaareyMusic is limited to be downloaded from Apple's App Store only. The Android app is coming soon.