With so many chat apps being around its hard to imagine what new features one can expect from the new entrants. Especially, with big giants like WhatsApp establishing themselves well in respective markets, it becomes difficult to launch a chat app and entice users to try it out. VEON is a recent example that made a big launch and successfully attracted the users but supposedly failed to retain them.
But wait, maybe we all are underestimating the potential of chat apps and this chat app called ZapBuddy made me think that actually we are. At first, it looked like just another chat app, I thought to give it a try and was pretty impressed with the features offered by this app. Though available only for iOS at the moment which I think is a big minus for a market primarily driven by Android, its worth having a look at what features it offers, of course other than the chat itself.
Interesting Features
Coming to the features, this is the first app that is built completely around the world of augmented reality merging naturally in the world of chats. These two are very different domains yet they have somehow managed to make this merger look like it was supposed to be this way all along.
Augmented Reality
Augmented reality is the new feature that makes you search for your friends in AR view through the camera to see where they exactly are. Often you decide to meet up a friend at some place and though both are at the same place, yet it's hard to locate each other. This especially happens in crowded places. With this feature, you can show your surroundings through camera to the one you are chatting with and they can locate you easily and quickly. No need to describe, that bijli ka khmaba or that street with red mehran parked there :p
Adding more to this, user can also look for points of interest such as ATM, Hospitals, Cafes etc.
This, though raises concern about privacy which is handled by giving control to the user to decide whom to share location with.
Lock Screen
That time when your parents ask for your mobile phone for an urgent call they have to make and you are in middle of some interesting group conversation with your friends…yeah..we all are familiar with it. This tense situation is solved now.  As soon as someone asks for your mobile phone, be kind and polite and immediately lock your chat app and hand over mobile to them.  This will not only save you from embarrassment of your chat window popping up on its own but  will also make your earn decency points from others.
Security
All conversations are encrypted. How solid the encryption algorithm is, we don't know but we trust the developers. Also, this app is secured with password that is linked with your private email.
Lock your app and share your phone easily without friends going through your chats
Contact Based DP
This is interesting. Something women will love to have. You can have your DP selected based on the type of contact. For example, you can have a sober and decent DP for your boss while having a pic from last night party for your friends. Isn't that cool?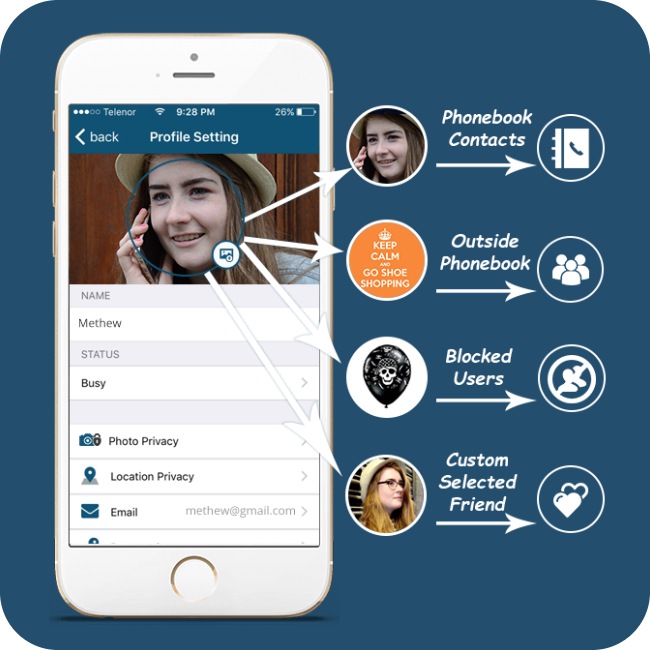 Flexible Notification Settings
Notification settings are given in every chat app but this app takes the customized notification settings to another level. Keep your notifications silent while keeping the one from boss still on. In other words, you can set settings to bypass global settings for selected contacts.
The Exception notification is a sight for sore eyes for people who keep on missing important messages
Focus on your work, or take a good nap after putting notifications on silent but still get the ones you don't want to miss.


So, in conclusion; ZapBuddy is impressive. How far it goes, we have yet to see. The world is moving towards messaging app, so there is still a place for new entrants. But, this is just a start. Without Android app, its a big limiting factor in growth. Further, Voice and Video Call is simply a must for any chat app these days that ZapBuddy doesn't have at the moment.
Let see, your never know this is our very own WhatsApp in future.
You can download the iOS Version here:  https://itunes.apple.com/eg/app/id1330377183