Some landmark events in the history of Bitcoin
Aug 2008
Bitcoin.org registered
Nov 2008
Whitepaper is published by Satoshi Nakamoto "Bitcoin: A Peer-to-Peer Electronic Cash System"
Jan 2009
First bitcoin client came into existence
Jan 2009
First bitcoin is generated by Satoshi – (genesis Block: 000000000019d6689c085ae165831e934ff763ae46a2a6c172b3f1b60a8ce26f)
Jan 2009
First transaction happens between Satoshi and Hal Finney. Hal receives 10BTC from him.
Aug 2010
Major vulnerability is exposed that allowed 184billion BTCs to be created without passing through any restrictions.
Aug 2010
Vulnerability is found, the transaction is cancelled and a fix is released in the blockchain protocol
*** 2011
Merchants started using BTC as an acceptable currency
Sep 2012
Bitcoin Foundation was launched to accelerate the global growth of bitcoin
Jun 2012
Coinbase emerges as a digital asset broker with services to buy/sell bitcoins through bank transfers
Oct 2012
Wordpress started accepting bitcoins
Mar 2013
Major glitch in the technology unearthed, making the blockchain split into two chains. The problem resulted into a temporary halt of transactions
Apr 2013
First major crash of Bitcoin from $233 to $67 due to a fork for correcting the glitch and outage at Mt.Gox (the pioneer bitcoin exchange)
Dec 2013
Second major crash of Bitcoin from $1150 to below $600 due to amateur investment frenzy.
Jan 2014
Network rate exceeded 10 petahash/sec
Feb 2014
Third major crash of Bitcoin from $867 to $439 due to the famous hack of Mt.Gox, the bitcoin exchange.
Aug 2015
Estimated 160,000 merchants accept bitcoin payments
Jan 2016
Network rate exceeded 1 exahash/sec
*** 2017
Gains legitimacy among lawmakers and Fintechs
Mar 2017
Number of GitHub projects related to bitcoin passed 10,000
Jun 2017
Fourth major crash of Bitcoin from $3000 to $1869 due to jitters in the market when programmers felt that the blockchain code needs an overhaul and shows the prospects of a new fork.
Jun 2017
Bitcoin symbol encoded in Unicode version 10.0 (U+20BF (₿)) as currenct symbols
Aug 2017
Bitcoin split into two derivative digital currencies, the classic bitcoin (BTC) and the Bitcoin Cash (BCH)
Sep 2017
Bitcoin price hits 5000USD, a new milestone
Sep 2017
Fifth major crash of Bitcoin from $5000 to $3150 due to China's crackdown on ICOs (Initial Coin Offerings) and rumours over its banning of cryptocurrency trading.
Oct 2017
Bitcoin price hits 6000USD, another milestone
Nov 2017
Bitcoin price hits 11000USD, increasing and showing no signs of stopping.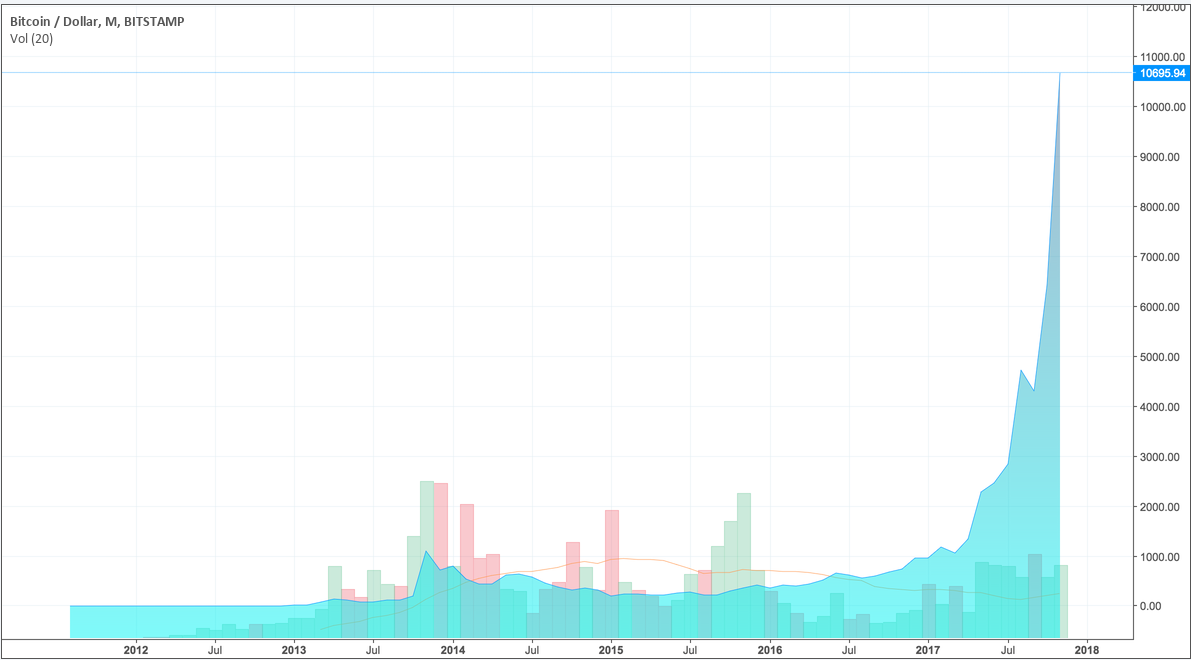 Dec 2017
Bitcoin price hits ~19000USD mark but only sustains for a few minutes and a major correction happens that stops at ~15500USD
Interesting Facts about Bitcoin
The inventor of Blockchain technology and Bitcoin, Satoshi Nakamoto, is an anonymous person and has not been identified still.
Botcoin.org was registered by someone with address in Panama 🙂 . People say Satoshi registered the company but its still a mystery.
Bitcoin has crashed 5 times in its history
Today Bitcoin is worlds 30th largest currency and has a market cap equivalent to Mastercard's $170Billion.
The max supply of Bitcoin is limited to 21,000,000 BTCs  but its expected to expire in year 2140.
China leads the bitcoin mining landscape, around 70% out of the whole world. India is second by 4-5%
Current price surge is maximum in its history. Its continuing since Sep 2017 from $5000 – $10000. Below is the chart denotating the number of days it has taken to rise past each 1000-point marker since 2010.