The Indus Entrepreneurs (TiE) is a not-for-profit organization of entrepreneurs. It came into being in 1992 in Silicon Valley in the hands of a group of entrepreneurs from South Asia. Hence the name 'The Indus Entrepreneurs'. The organization was built with the objective of nurturing entrepreneurs and their businesses. TiE hopes to achieve this by providing mentoring, networking, incubating and funding.
Currently, the organization holds up to 13,000 aspiring members with over 2,500 chartered members. It has been successfully running since 1992 with 61 chapters across 18 countries. Almost 50 events are held annually under the banner of TiE which helps the entrepreneurs connect and learn from each other and explore the world.
Major Events Held by TiE
My Story is one of the popular events held by TiE where people tell their stories and shares experiences. Another major event is TiEcon, which draws the interests of similar business professionals and startup employees. TiE also conducts programs where entrepreneurs could get themselves enrolled with the purpose of receiving mentorship, education, funding and much more.
Islamabad Chapter
Islamabad is one of TiE chapters that conduct workshops and mentoring sessions for the benefit of local entrepreneurs. It aims to help boost local economy by promoting entrepreneurship.
Back in July 2013, TiE Islamabad introduced Pakistan StartUp Cup competition in Pakistan in association with U.S Embassy and Pakistan StartUp Cup LLC, Tulsa, Oklahoma, USA.
Pakistan StartUp Cup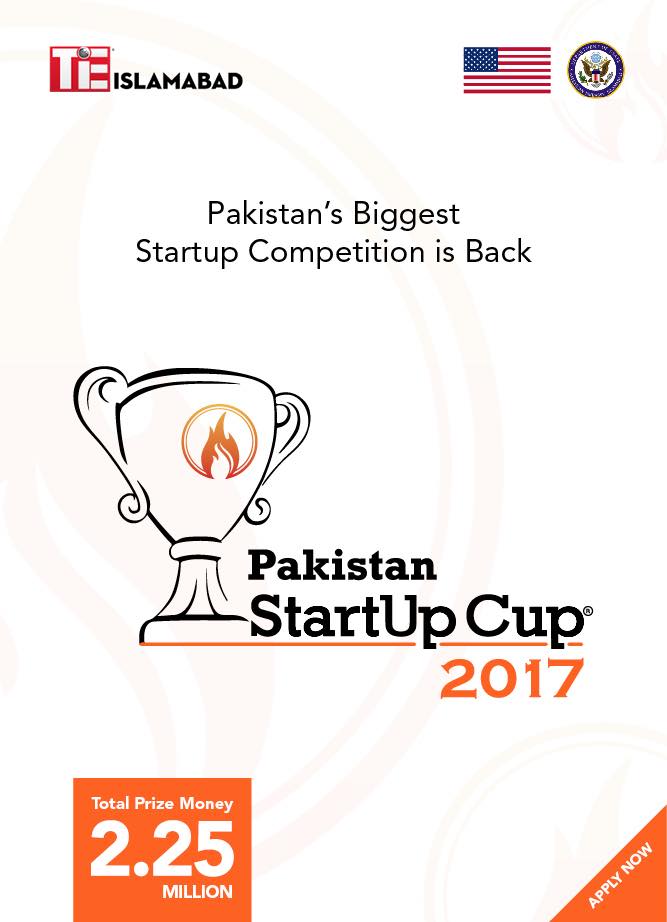 To get the chance in this grand competition, Islamabad is not the only city but other major cities of Pakistan like Karachi, Lahore, and Peshawar are also part of it. Its all made possible by TiE Islamabad Chapter in collaboration with the U.S Embassy in Pakistan, and is powered by GriffinWorx. The great part is that there is no fee to get registered in the competition. It is free for all. Also, the event is being conducted with the goal to increase female entrepreneurship within Pakistan. To achieve this goal 50% of the startups inducted in the event will be the ones being managed by women 
What does Pakistan StartUp Cup Offers?
Network of US startup community to exchange business ideas

Training on basic commercials skills to grow a business

Training on how to pitch ideas in order to attract investors: local and foreign

Prize money of around 2.25 million to select ones
How to apply for Pakistan StartUp Cup 2017?
If you want to explore the entrepreneurial world and be part of this community of aspiring individuals then apply now at http://pakistan.startupcup.com/submit-your-idea-2/
Last date to submit ideas is 10th September. Shortlisted ideas will be contacted by the 20th of September.
If you have any queries you can contact the team at startupcup@tieislamabad.org