Earlier it was Easypaisa that introduced digital lending last year, followed by TEZ Financial Services. Now, it's JazzCash joining the game with its ReadyCash service. The service targets the low end customers with instant loan requirements where they can avail loan of maximum Rs. 1,000.  Loan can be repaid in instalment over a period of four weeks.
The service is exclusively for JazzCash Mobile Account customers. Currently, it's in pilot phase and only selected customers will be able to receive the loan. The charges or loan fee is easy to understand and customer can exactly know what he is getting and at what price.
How to get Loan
This digital way of getting loan is as easy as topping up your mobile account balance. Here are the steps,

More details here 
Pricing
Here are the price list that you have to pay on a weekly basis. Customers will be charged this weekly fee on the availed ReadyCash amount.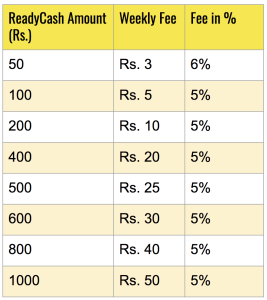 Digital lending is a new space and many players are trying to make learnings from their pilots before launching a full-fledged commercial service to reduce their bad debt. The access to loans will definitely increase for Pakistani customers with the passage of time and the loan amount is going to go up once strong profiling of customers is available.